The Cyberus Labs team had four intense and fruitful days exhibiting CYBERUS KEY at World Mobile Congress/4YFN, the world's largest mobile conference with over 100,000 visitors in Barcelona. George Slawek, CEO presented Cyberus Labs by pitching to an audience of almost 1,000 industry executives, press and investors.
"Ladies and Gentlemen" – he started the presentation.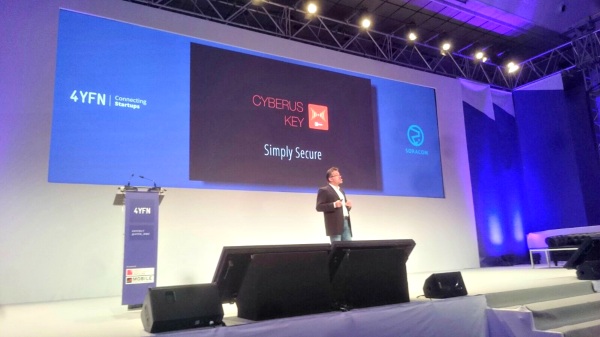 "The password system is…" "Broken!!" – answered the audience. Yes, passwords are the weakest link in the cybersecurity and the audience at 4YFN main stage was happy to see CYBERUS KEY as a global solution for that problem. We have enjoyed a very enthusiastic and warm reception from potential clients. Dozens of meetings were held at our exhibitor stand over the next few days with people wanting to learn more about CYBERUS KEY and how to cooperate with us.
CYBERUS KEY, a next generation user password-free login system using sound communication between devices has captured the attention and interest of some of the world's leading companies – international banks, fin-tech, telecoms, government and of course investors. The reception of CYBERUS KEY was very enthusiastic. "Fantastic!", "Very Smart", "Extremely Innovative" "Truly Disruptive!"- are only a few examples of our visitors' reactions to presentations of CYBERUS KEY.
Do you want know more about CYBERUS KEY? We will be more than happy to assist you.